After winter, we eagerly await the arrival of spring at the window: the days become longer, the temperatures milder, and the many scents and colors mark the awakening of nature from the hibernation of the coldest months of the year.
It's the season for nature walks, flowering trees, reading a book on the terrace at home, or sitting on a park bench.
Every spring is a small rebirth, a reunion. To enhance these floral and fresh aromas, we have created a special blend of coffee.A limited edition made up of unique specialty coffees, all traceable from origin to cup.
Caffèlab's spring blend is called "Flower Bloom Coffee," and we're sure it will simply conquer you!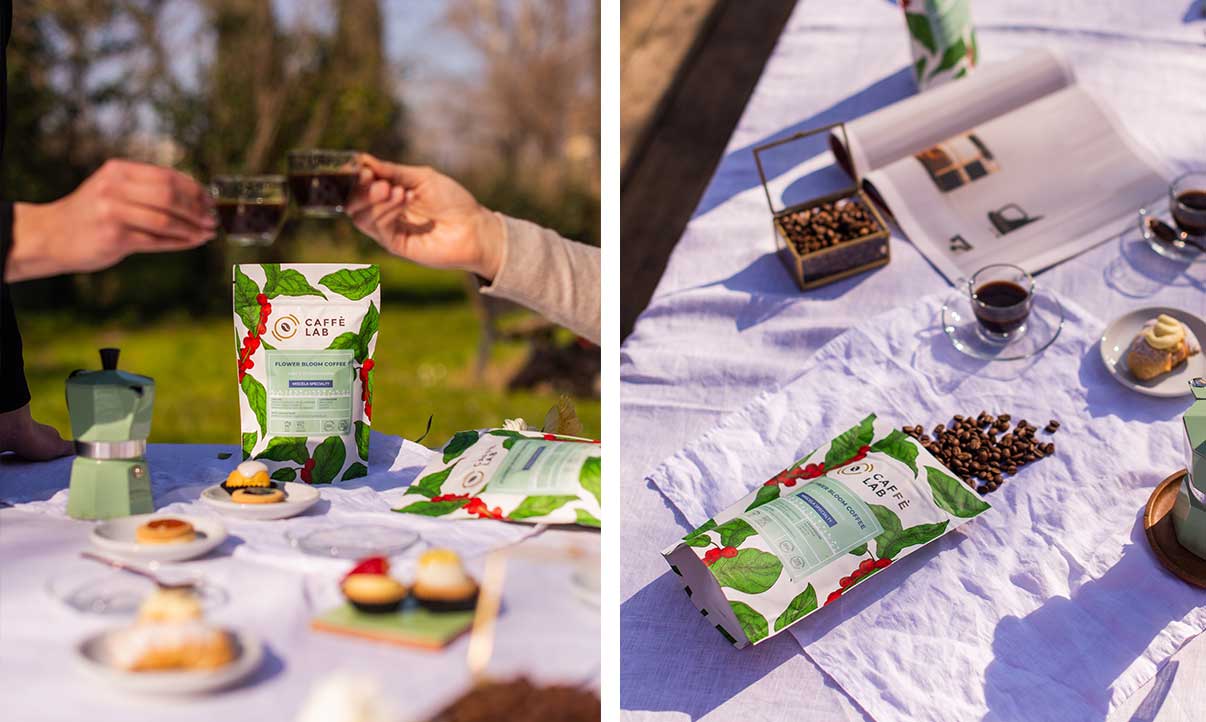 Classic and timeless coffees keep us company throughout the year, and every season can have its own type of coffee, thoroughly selected and created by our Caffèlab team, linked to the rhythms of nature with the task of surprising every year with renewed intensity.
The Flower Bloom Coffee blend is the result of a careful research, made with three thoroughly  selected Arabica coffees. These exceptionally unique coffees bring floral, fresh, and balanced aromas to the cup, with an enveloping sweetness: Brazil Fazenda Isidro Pereira, processed by the natural method and several times in recent years, reached the finals of the Brazilian Cup of Excellence; Ethiopia Aramo Kebele, handpicked at 2000 meters above sea level and processed with the washed method; and Rwanda Nova Café Des Mamas, grown by a group of women in the volcanic mountains in the center of Africa.
Recommended both for Moka and Espresso (but also great in filter). In the cup, we discover a coffee with exceptional floral, citrus flowers, apricot, and caramel aromas.
Moreover, Caffèlab's Spring Blend is part of the Women Coffee Project, which aims to increase awareness of women working in the coffee industry, particularly in producing countries. The International Women Coffee Alliance – of which we are proud members and  founding partners in Italy – ensures that women are treated with the utmost respect and regularly compensated, making them more autonomous and providing themselves and their families with a good standard of living.
The Flower Bloom Coffee is only available at this time of year, with a special 20% discount. The flavors of spring are at the doorstep, discover them in your next cup of coffee.
---